3D Printing on Demand
JMO Technology is your on demand 3D Printing service. We offer materials and services for engineers and hobbyists! Fast and affordable for everyone!
Get an instant quote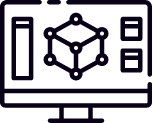 Multi material and color parts

How it Works

Upload the Model
We accept a wide variety of files from STL to OBJ and STEP

INSTANT QUOTE
Choose your material, color, quantity and lead time.

RECEIVE YOUR PARTS
We ship anywhere in the world. Parts shipped in days.

24/7 Instant Quoting
Stop missing deadlines with instant quoting and same day production. Parts shipped as fast as 6 hours upon request.
Quote Now

Quality Guarantee
Guarantee quality parts with our 7 day money back guarantee. Receive a full refund or new parts if dissatisfied.
Learn More
Review of JMO Technology 3D Print Service
Excellent experience with JMO Technology. The turnaround from ordering the print to delivery was extremely fast and communication was outstanding. The prints turned out great, and I would definitely use John's services again for future printing needs. Thanks, John!!



JMO 3D printing rocks!
Did an amazing job in our 3D prototyping. Our pieces were challenging and they did not hesitate to rebuild them to get them to the highest quality. They are always responsive and available. We definitely recommend JMO as your 3D prototyping company.




Look no further! This guy is great!
I had to have a part made because I couldn't get a replacement anywhere. They just don't make them. I contacted John and he got back to me right away. He went out of his way to explain to me the material and density that would work best for my job. With his recommendations, I placed my order and it was on it's way to me the next day...

See all